Just wanted to give you the heads up that we are in full swing planning Melbourne Cup for the first Tuesday in November.
This year we will be holding two separate events, the Glamour Luncheon in the restaurant and a special 'Birdcage Picnic' upstairs overlooking the River and CBD.
We promise a great Townsville Melbourne Cup 2013 event, so to get more details on either function call JAM Corner on 4721 4900 or contact us via email.
CLICK HERE FOR ALL THE DETAILS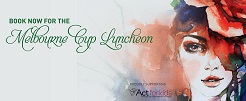 Thanks
Matt